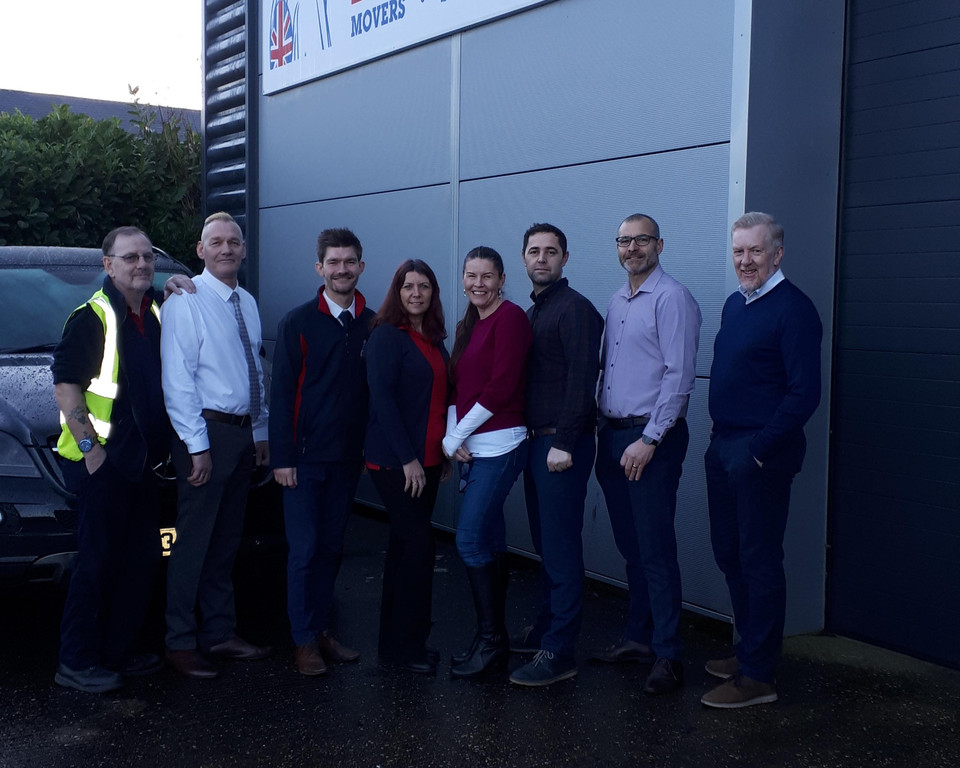 From left to right;
Dave Hartley – Warehouse manager
Paul Coe – Sales Surveyor
Luke Coe – Sales support
Shirley Grantham – Administration
Livia Benova – Accounts
Alberto Collacone – Operations Supervisor
Vinny Byatt – Branch Manager
James Williams – General Manager
Our friendly team
Statistics prove that moving home is one of the most stressful experiences you can go through, which is why our team at Britannia Pink & Jones pride ourselves on offering customers all the resources and expertise of one of the world's most respected moving organisations.
Our friendly team of removals experts always put our customers are the number one priority, ensuring an exciting and stress-free removal experience, whether that is to somewhere else in your local area, a move to Europe or an international move.
Day to day tasks for these faces behind the scenes include organising the removals, operating large fleet vehicles efficiently, administration duties within removals and self-storage, confirming removals with our customers and porters, taking care of leads and bookings that come through the various marketing streams, coordinating 25 hard-working removal men to maximise workforce, understanding how to achieve exactly what people moving house need and want and much more.
Our team are fully trained professionals; Pink & Jones operates its own in-house training school for removal operations, regularly updating courses to meet present day requirements and expectations, as well as providing refresher courses on basic removal techniques.
Call Me Back
Complete the form below and we'll call you back to discuss your requirements
UK Quote
Complete the form below to get your UK Removals quotation
International Removals Quote Request
Complete the form below to get your International Removals quotation
European Removals Quote Request
Complete the form below to get your European Removals quotation
Self Storage
Complete the form below to get your Self Storage quotation
Shredding Quote
Complete the form below to get your Shredding quotation
Home Survey
Complete the form below to get your Home Survey arranged